By Jesse Johnson
SAULT STE. MARIE – The Anishinabek Nation's Health Transformation Team held their first in-person Working Group meeting in Sault Ste. Marie, Ont., on July 5 and 6. The group of health experts had a productive two days working on their vision statement, mission statement, and discussing the list of frequently asked questions.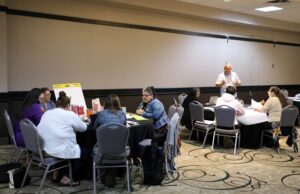 The Working Group reviewed the Health Transformation's Work Plan, their draft Terms of Reference, Health Governance Models, and their Roadmap.
Health Transformation Engagement and Working Group Coordinator, Lisa Restoule-Brazier, led the engagement session in Sault Ste. Marie. She has been in contact with all 39 Anishinabek Nation member First Nations to bring additional members into the Working Group.
"We had a very productive session. I was happy with the turnout and the high-level questions that came from it. We accomplished a lot during the two days and I am looking forward to our next session in October."
The Health Transformation Team has been holding engagement sessions with many interested Chiefs and Councils so far. Restoule-Brazier has been reaching out to Anishinabek Nation member First Nations for the past few months in order to introduce the Health Transformation initiative. Once introductory meetings have been held with Chief and Council, follow-up sessions will include member citizens in order to get a perspective of what Anishinabek citizens want for their health system.
Jessica Grawbarger, Wellness Centre Manager for Garden River First Nation, is a Working Group member. She said that the Working Group will be crucial in order to carry on the work that needs to be done. She wants to see sub-groups so that the group can keep up with demand.
The Health Transformation initiative is a big undertaking that will need everyone's input from the grassroots to leadership. First Nations in British Columbia have already gone through this transition; John Scherebnyj, Health Transformation Fiscal Analyst, was a part of that health transformation process prior to joining the Anishinabek Nation.
Scherebnyj helped lead discussions at the Working Group meeting and said it was good to finally have an in-person meeting with the health representatives. He said he was impressed by some of the questions., and even though he couldn't answer all of them, it's important to use those questions as guidance in order to provide more information going forward.
"In the next year, I want to see continued participation with the Working Group and I look forward to connecting with community members so we can discuss Health Transformation together," said Scherebnyj.
The Working Group will contribute to the gathering of community-level feedback on the draft plans and recommendations that will capture concerns and aspirations; involve all citizens in the planning and designing of a holistic system that will ensure ideas and concerns are reflected; and, include direction from leadership, management, frontline workers, and all citizens living on and off-reserve.
The Health Transformation Working Group is still accepting new members to participate in the development of a new health system by Anishinabek for Anishinabek.
If you're interested in joining the Working Group or setting up an introductory meeting, please contact Lisa Restoule-Brazier at lisa.restoule@anishinabek.ca or contact your First Nation's Chief and Council or Health Director.
For more information on Health Transformation, go to their website: www.health-transformation.ca.