By Jesse Johnson
HAMILTON – The Anishinabek Nation's Health Transformation Team met with Dr. Jennifer Walker, Associate Professor at McMaster University, to discuss a possible collaboration to improve data collection. The meeting took place on Jan. 10 at McMaster University in Hamilton, Ont.
Dr. Walker, a Haudenosaunee member of the Six Nations of the Grand River, focuses her work on Indigenous community-engaged health research using large health service databases. The Health Transformation Team discussed some of the opportunities and challenges they face and ways a collaboration could be beneficial to the Anishinabek Nation First Nations.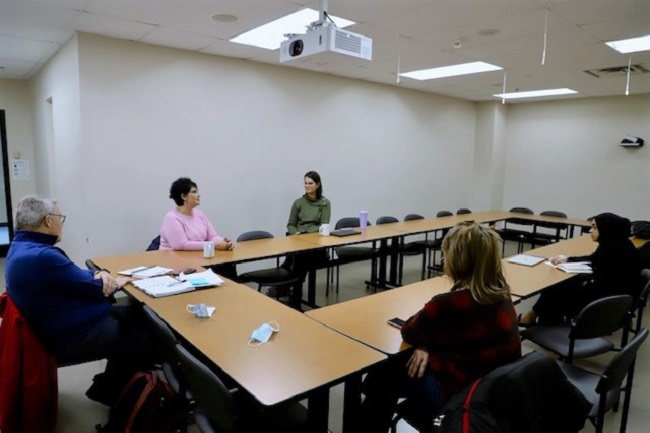 "Working with McMaster University and their ability to compare Indigenous to non-Indigenous health indicators will empirically show the difference between the two. This will provide substantiated justification for additional funding to improve First Nations health," says John Scherebnyj, Health Transformation's Fiscal Analyst.
Other topics of discussion during the meeting included sepsis, diabetes, and obesity. In order to form a strong foundation, gaps in services must first be identified.
Dr. Walker's presentations focus on Indigenous Data Governance and Research Ethics.
She says she looks forward to finding ways to support health transformation for the Anishinabek Nation.
"I think data collection will help the Anishinabek Nation to make informed decisions that will build a strong health system long into the future," says Dr. Walker. "I am hopeful that through my knowledge of health data and my relationships at both ICES (formerly known as the Institute for Clinically Evaluative Sciences) and McMaster University, I can support this important work."
If you are a member of one of the 39 Anishinabek Nation member First Nations and would like to join the Health Transformation Working Group, please contact Lisa Restoule-Brazier at lisa.restoule@anishinabek.ca.
For more information on Health Transformation, please visit: www.health-transformation.ca.