By Jesse Johnson
ANISHINABEK NATION TERRITORY — The Anishinabek Nation Health Transformation Team has held Engagement Sessions with 13 Anishinabek Nation member First Nations Chiefs and Councils and is looking to meet with more in the coming months.
The Team has so far met with Curve Lake First Nation; Red Rock Indian Band; Chippewas of the Thames First Nation; Chippewas of Georgina Island First Nation; Michipicoten First Nation; Wahnapitae First Nation; Dokis First Nation; Algonquins of Pikwàkanagàn First Nation; Serpent River First Nation; Sheshegwaning First Nation; Chippewas of Rama First Nation; Beausoleil First Nation; and Aamjiwnaang First Nation.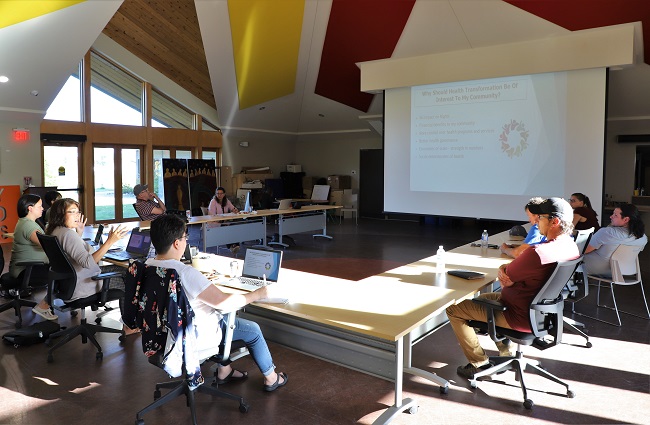 "The engagement sessions have been positive and well-received. The Chiefs and Councillors have been interested in having follow-up meetings in order to discuss this opportunity further," says Health Transformation Project Manager Loretta Nootchtai.
Lisa Restoule-Brazier, Health Transformation Engagement and Working Group Coordinator, has reached out to communities to set-up engagement sessions either in-person or through Zoom.
"It has been a busy year for our Engagement Sessions. We have reached out to all 39 member First Nations and we have had a lot of interest. I'm excited to meet with more communities in the next few months," says Restoule-Brazier.
Restoule-Brazier is also responsible for organizing Working Group meetings comprised of health experts from the Anishinabek member First Nations. In October, the group came together to listen to presentations from Nishnawbe Aski Nation's Deputy Grand Chief Victor Linklater; Chief Operating Officer of B.C's First Nation Health Authority Richard Jock; as well as Heather Larson from Indigenous Services Canada and Tara Jane Hayward, of Non-Insured Health Benefits Canada.
After the Working Group meeting, Deputy Grand Chief Linklater said he was impressed by all of the good ideas that were shared at the meeting.
"We (Nishnawbe Aski Nation) had a health access group, but Anishinabek Nation's Health Transformation Team is specific on topics and does a good job getting feedback from the health experts," he expressed. "Health Transformation is a good file for NAN and Anishinabek Nation to work together on."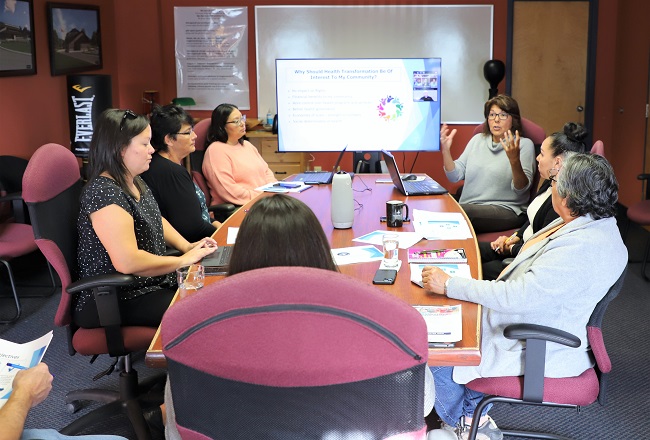 Deputy Grand Chief Linklater said he wishes NAN had done more of the foundation work Anishinabek Nation has done.
"Community engagement is so important. I'm encouraged by the Anishinabek Nation's work at the grassroots-level."
The Working Group meetings have given health experts the opportunity to connect, share their ideas and discuss the challenges they face in their roles.
"The purpose of this Working Group session was to present other Health Transformation Model processes currently in progress to our working group members and to provide them with a better understanding of what a model could look like," says Nootchtai.
Natalie Paavola, Director of Health at Dilico Anishinabek Family Care and representative of Namaygoosisagagun First Nation, participated in the Working Group meeting at Chippewas of Rama First Nation.
"It was great to hear from Richard Jock and to hear what has been learned from the experience in B.C. It was also good to hear from Deputy Grand Chief Victor Linklater — they both provided valuable perspectives and lessons learned."
Paavola also commented on how important it has been to meet with other health experts on a regular basis.
"Having the opportunity to meet other health experts is necessary if we are going to continue with Health Transformation and if we actually envision successfully implementing Health Transformation. I truly believe this process has to be done as a collective and not allow for division."
The Health Transformation Working Group is still accepting new members to participate in the development of a new health system by Anishinabek for Anishinabek.
For more information, to book an engagement session, or to inquire on how to become a Working Group member, please contact Lisa Restoule-Brazier via e-mail: Lisa.Restoule@anishinabek.ca or contact your First Nation's Chief and Council or Health Director.
To learn more about the Anishinabek Nation Health Transformation, please visit https://health-transformation.ca/.